The Rule of Law in the PRC Workshop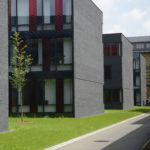 Workshop
The Rule of Law in the People's Republic of China: Statements, Realities and Insights (Göttingen, October 5, 2016)
October 5, 2016 · Blauer Turm, 13th Floor, Room 13.122
Library of the Institute of International and European LawPlatz der Göttinger Sieben 5, 37073 Göttingen
Program
Participants & Abstracts
Papers
Useful Information
The Rule of Law in the People's Republic of China: Statements, Realities, and New Perspectives
Organizer: German-Chinese Institute of Law
Co-organizer: Centre for Modern East Asian Studies
Much has been said and written about the rule of law in the People's Republic of China. As the issue has recently been put on the reformist agenda again, a review is warranted, including a reality check. Also, there is a need to explore, whether new analytical approaches may offer a better understanding about these developments.
The CeMEAS workshop will bring together experts in the field to reflect on the reform agenda as discussed at the fourth plenary session of the CPC Central committee in 2014 and look into the details of developments in one of the most significant areas of the rule of law, which is criminal law. In the sense of a reality check, the workshop will also address current measures against lawyers, activists and the legal profession more generally.
The workshop furthermore aims at breaking new ground in the analytical understanding of the developments.  It will address an issue, which so far has been largely neglected in the academic analysis and which is the role of the Communist Party in promoting the rule of law.
Furthermore, the workshop will see and discuss social science methods of assessing the level of the rule of law by means of indicators and rankings.
Also, the workshop aims at exploring new perspectives in seeing rule of law developments in the people's republic of china in comparative perspective.  So far, such developments have been often analysed and criticised from a Western point of view.  The workshop will explore, whether other perspectives may be taken into account in comparative work.
Lastly, the workshop will address the international dimensions of the rule of law in the People's Republic of China in taking into it consideration, that country is both the subject to but also an actor in the United Nations rule of law and human rights activities.