Confucius as a Cosmopolitan: Thought and Practice
7. Jul 2023 @ 14:00

-

16:00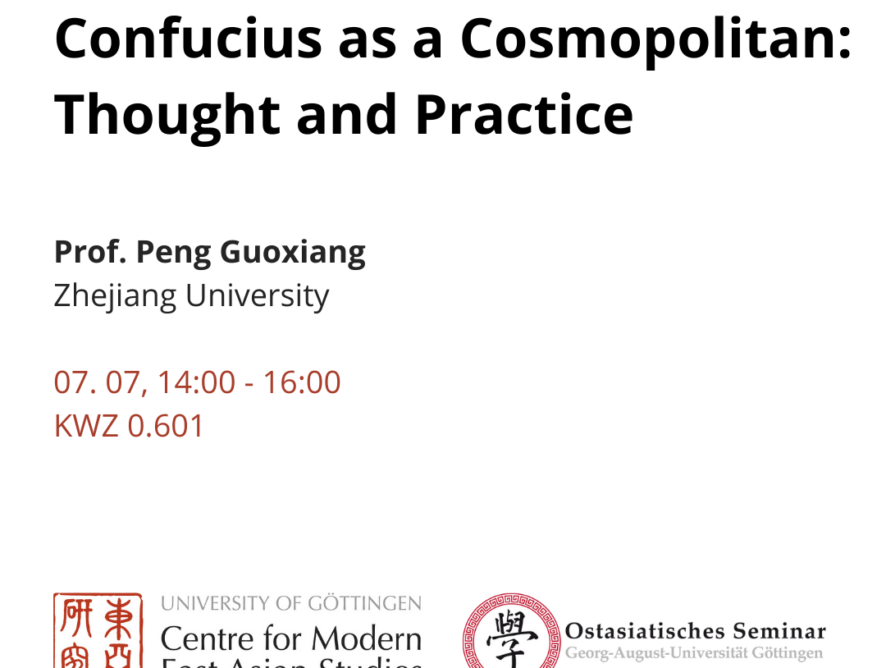 07. July, 14:00-16:00
KWZ 0.601
Abstract: 
Based on the Analects and other texts related to Confucius in classical period and taken "cosmopolitanism," a concept with long history in the Western tradition as a counterpart for comparison, this talk aims to probe the thought and practice of Confucius as a cosmopolitan and point out the feature and significance of the Confucian "rooted cosmopolitanism" revealed in the thought and practice of Confucius. The rooted cosmopolitanism embodied by Confucius not only has the basic characteristics of all versions of cosmopolitanism, namely, going beyond the territory and ethnicity, but also keeps a dynamic balance between the one and the many, which is usually ignored by the radical cosmopolitanism. Last, a brief comparison between Confucian rooted cosmopolitanism and the rooted cosmopolitanism advocated by Appiah would be made.
Speaker:
PENG Guoxiang 彭國翔 is Qiu Shi Distinguished Professor of Chinese philosophy, intellectual history and religions and the director of Ma Yifu International Center for the Studies in Humanities at Zhejiang University. He was professor at Peking University and Tsinghua University and research fellow at Chinese Academy of Social Sciences. He is the 2016 Kluge Chair in Countries and Cultures of the North (Library of Congress, USA) and 2009 Awardee of the Friedrich Wilhelm Bessel Research Award (Humboldt Foundation and the Ministry of Education and Research, Germany).
His publications include The Unfolding of the Innate Good Knowing: Wang Ji and the Yangming Learning in Mid-Late Ming (2003, 2005, 2015), Confucian Tradition: Between Religion and Humanism (2007, 2017), Confucian Tradition and Chinese Philosophy: Retrospect and Prospect in a New Century (2009), Confucian Tradition from Classical Period to Its Contemporary Transformation: Speculation and Interpretation(2012), Revision and New Discovery: Historical Study of Pre-Modern Confucianism from Northern Song till Early Qing Dynasty (2013, 2015), Reconstruction of This Culture of Ours: Confucianism and Contemporary World (2013, 2017), This-worldly Concern of the Wise: The Political and Social Thought of Mou Zongsan(1909-1995) (2016) and numerous articles.