Contemporary Theater Art Seminar Series No. 12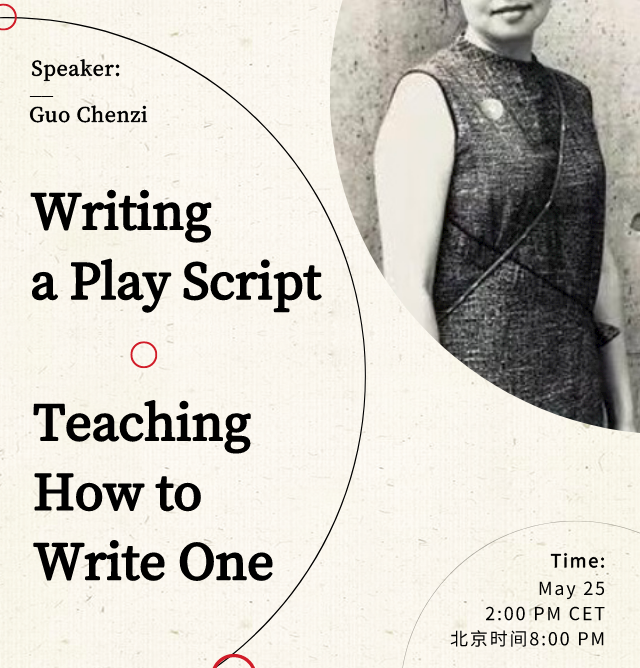 Writing a Play Script and Teaching How to Write One
Guo Chenzi
Time: Wednesday, May 25, 2: 00 PM CET
Zoom Meeting: https://uni-goettingen.zoom.us/j/62861416226
Meeting ID: 628 6141 6226
Language: Chinese
Content
1. Can we "learn" how to write a play? What are the pros and cons of playwriting "apprenticeships"?
写剧本能"学"吗? 编剧"学徒制"的利与弊。
2. Can we "teach" how to write a play? Is teaching playwriting equivalent to play diagnosis?
写剧本能"教"吗? 编剧教学=剧本诊断?
3. What is dramaturgy in the opinion of a playwright? How did I write "Hudec"?
编剧眼中的 Dramaturgy 与《邬达克》的写作。
Short Bio
GUO Chenzi, M.A., associate professor of Shanghai Theater Academy. Her works written include the dramas performed in black box theaters "Don't Ask Who I Am", "Love Slimming", "Resurrection", the musical drama "Zhong Kui", "A Moment Is Not Forever", the musical "Jews in Shanghai" (cooperation with others), stage plays "Hudec" and "Clear Ripples", etc. She has published books Kunqu Opera: The Past Life I See in This Life, A Moment Is Not Forever – Guo Chenzi's Drama Collection, The Curtain Opens – Guo Chenzi's Drama Critic Collection, and Chenzi Watching Dramas.
郭晨子,文学硕士,上海戏剧学院副教授。编剧并上演的作品主要有小剧场话剧《别问我是谁》《爱情瘦身》《还魂记》、音乐话剧《钟馗》《瞬间不是永远》、音乐剧《犹太人在上海》(与人合作)、舞台剧《邬达克》《清清涟漪》等。出版有《昆曲 今生看到的前世》《瞬间不是永远——郭晨子剧作集》《大幕拉开——郭晨子戏剧评论集》和《晨子看戏》
For further information please refer to Yingming Theater.