Contemporary Theater Art Workshop: Waiting for Testing – Rewriting Theater History
April 2022 @ 13:00

-

April 2022 @ 16:00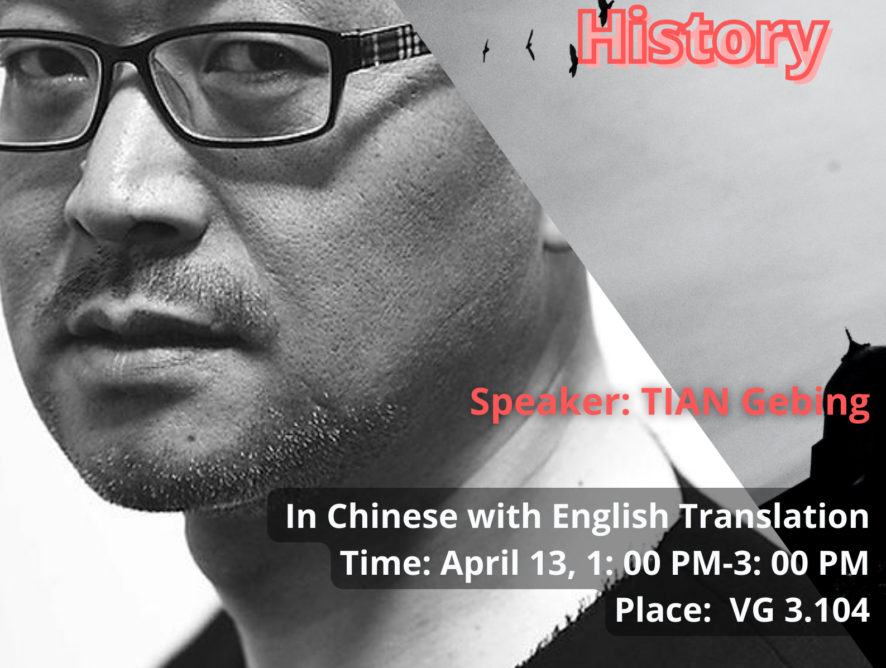 Waiting for Testing – Rewriting Theater History

Event canceled!
We are very honored to invite Director TIAN Gebing and Choreographer WANG Yanan. They will host the workshop at the University of Göttingen on April 13 and 14. Amid the commonly experienced disorientation in this game-changing crisis, the workshop "Waiting for Testing – Rewriting Theatre History" proposes to hold a discussion on the history of the past two decades to look again at how, in contemporary performance, fugitive resistance and personal insurgence have formed biographies of surprise, as well at how collective heterogeneous energy was generated through fragmentary and inorganic connections, against the backdrop of the development of socio-historical space and power landscape in China. Director Tian will also briefly introduce his new performance at the Humboldt Forum in Berlin. He will lead the workshop from the modern history of East-West exchanges since the 18th century to enter topics such as "revolution" and "colonization", trying to initiate discussions from a historical and macro perspective.
Time: April 13, 1: 00 PM-3: 00 PM (TIAN), April 14, 1: 00 PM – 4: 00 PM (WANG)
Venue: VG3.104, the University of Göttingen
The first in-person event on April 13 is limited to 40 attendees, and the second on April 14 is to 20.
Scan the QR codes on the posters to register.
Short bio:
TIAN Gebing is a director, curator, and writer. He graduated from the Central Academy of Drama in Beijing in 1991. In 1997 he initiated the founding of Paper Tiger Studio. Over the past 20 years, he has created a large number of artistic works and events mixing visual arts and performance. His works are seen in international cities and festivals around the world. Early works are exemplified by "Killer is Not Cold and High Art" (1998), "Cool" (2006), "Reading" (2010). From 2010 on he has shifted his focus to transcultural research and collaboration. Works in this period include "Dekalog" (2016), "500 Meters: Kafka, Great Wall or Images from the Unreal World and Daily Heroism" (2017), "Infection, State of Emergency, Beethoven" (2020). Further in 2014 "Totally Happy" premiered at Münchner Kammerspiele. In 2021, he collaborated with the ensemble of Muenchner Kammerspiele for "Hart Chamber Fragments".
WANG Yanan is a dancer and choreographer. She graduated from Beijing Dance Academy. Since 1999 Wang worked for ten years with Living Dance Studio and was part of productions such as Birth Report and Body Report. She toured international cities and festivals and won the ZKB Award at Zürcher Theater Spektakel. In 2004, she founded Le Se Dance Studio and has created works such as Le Se 1, Le Se 2, House, etc. She collaborated with artists with various backgrounds and toured in European countries. She has been part of Paper Tiger works since 2001, as a performer, concept, and choreography. In 2014, she was commissioned by Hong Kong Arts Festival for Iron Horse. In 2014 she collaborated with Münchner Kammerspiele and Goethe Institute (China) for Totally Happy. In 2016 she was commissioned by Stary Teatr Kraków for "Dekalog". In 2017 she worked with Thalia Theater Hamburg to create 500 Meters: Kafka, Great Wall or Images from the Unreal World, and Daily Heroism. In 2021 she collaborated again with Münchner Kammerspiele for "Heart Chamber Fragments".

"当代剧场艺术" 工作坊
待测——重写剧场史
4月13日-14日,东亚系将邀请剧场导演田戈兵和舞蹈家王亚男来哥廷根大学,现场主持工作坊 —— "待测:重写剧场史"。将表演、艺术史的讨论嵌合于正在发生的现实语境下,通过身体和调研工作坊,探讨上世纪90年代以来的20多年,在社会历史和政治权力空间演进下,"表演" 如何在 "出走离开" 的反抗和自反性行动中塑造了出人意料的个人史,并进而碎片式无机生成集体的异质性能量。除了 "重写剧场史",田戈兵导还将介绍最新的 "洪堡论坛" 项目,带领工作坊由18世纪以来东西方交流的近代史,进入"革命","殖民"等话题,尝试进行宏观历史视角的讨论。
时间:4月13日,下午1:00-3:00(田);4月14日,下午1:00-4:00(王)
地点:哥廷根大学 VG3.104
报名:身体工作坊接受最多20位线下参与者。调研工作坊线下人数不超过40人。欢迎大家参加!请扫描海报右下角的二维码注册报名。两场活动,请分别报名。从速!我们为参与者准备了限量版的小纪念品!
个人简介:
田戈兵,剧场导演、独立制作人、策展人。王亚男,舞蹈家、编舞。田戈兵1997年创立纸老虎戏剧工作室,主持了该工作室的所有演出计划。早期代表作品包括:《北京蓝》(1997)、《杀手不太冷及高雅艺术》(1998)、《酷》(2006)、《朗诵》(2010)等。在2010年,纸老虎开始跨文化研究性剧场的创作,进行广泛的国际合作。连续两年在比利时安特卫普创作了《误读三部曲》。2012年在中国和德国同时开始大型剧场研究项目《群众:非常高兴》,2014年10月在德国慕尼黑室内剧院全球首演。2016年为波兰克拉科夫国立老剧院制作委约作品《十诫》。2017年剧场研究项目《500米:卡夫卡、长城、来自不真实世界的图像和日常生活中的英雄主义》参加 "世界戏剧节",首演于汉堡塔利亚剧院。2021年9月获得柏林表演艺术基金会支持,制作了特定场域装置性表演项目《解除》。2021年10月《某种类似于我的地洞:心室片段》在慕尼黑室内剧院进行了世界首演。2021-22年,田戈兵与王亚男将在柏林洪堡论坛推出研究性表演项目。