The Seeds of Drama—Taking The Clothes of Rongyi as an example 戏剧的种子——以《戎夷之衣》为例
22. Feb 2023 @ 13:00

-

14:30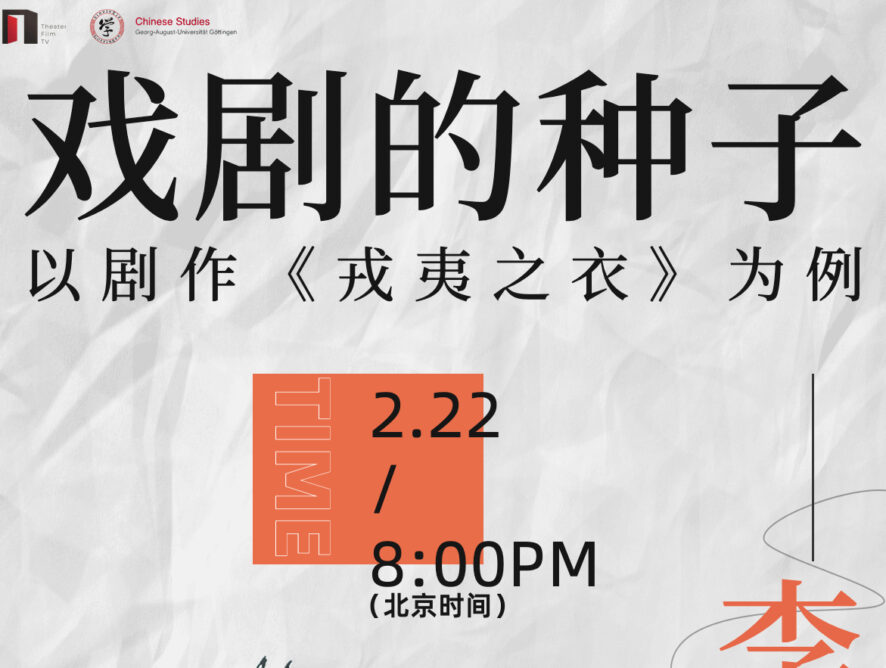 Topic: The Seeds of Drama—Taking The Clothes of Rongyi as an example 戏剧的种子——以《戎夷之衣》为例

Speaker: LI Jing, Playwright, Deputy Editor in Chief of Chinese Literature

Time: Feb. 22nd, CET 1: 00 PM, Beijing Time 8: 00 PM

Meeting ID: 644 0151 2154

李静,剧作家,文学评论家。著有话剧《大先生》《秦国喜剧》《戎夷之衣》,出版有五卷本文集《我害怕生活》(包括《必须冒犯观众》《捕风记》《王小波的遗产》《致你》《戎夷之衣》)等。现居北京。《戎夷之衣》这部作品改编自《吕氏春秋·恃君览第八》中戎夷解衣的故事,一个人的棉衣和另一个人的余生,就这样被紧紧地焊接在一起。本次讲座作者将以此为例谈谈如何形成和确立一部戏的精神主题。这主题是一部戏的核心和种子。

Li Jing, playwright, and literary critic, is the author of Mr. Big, Comedy of the State of Qin, and the Clothes of Rongyi, and published five volumes of the anthology I'm Afraid of Life (including "Must Offend the Audience" "Catching the Wind" "Wang Xiaobo's Legacy" "To You " "The Clothes of Rongyi"). She lives in Beijing. The Clothes of Rongyi is adapted from the story of Rongyi depicted in the Examinations Section 8 of the Annals of Lü Buwei (compiled in 239 BC). It tells about a cotton coat and Rongyi bonded together for life. Li Jing will take this play as an example to talk about how to develop a theme when writing a play script——the seed of a play.