"Contemporary Theater Art" Seminar Series No. 9: Comedies in contemporary Chinese theatre – a sudden boom
March 2022 @ 13:00

-

14:30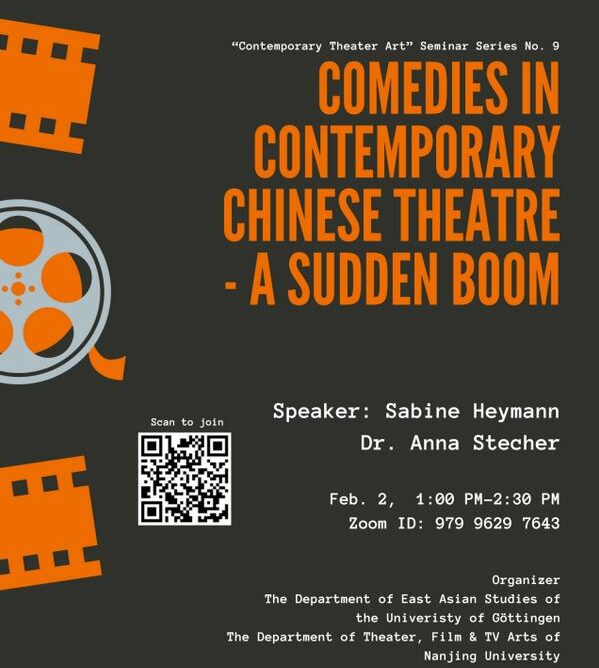 Comedies in contemporary Chinese theatre – a sudden boom
Speaker: Sabine Heymann, Dr. Anna Stecher
Time: Mar. 16, Wednesday, 1:00 PM-2:30 PM CET
Zoom Meeting: https://uni-goettingen.zoom.us/j/97996297643
Meeting ID: 979 9629 7643
Language: English
Content
Sabine Heymann in conversation with Anna Stecher about her new book "Die Konjunktur der Komödie im China der Gegenwart" (The boom of comedies in contemporary China) –  which presents six current successful comedies from China in German translation.
Chinese theatre is not famous for comedies. As far as we know, up to now, no Western book has been explicitly dedicated to this topic. However, comedies are among the most-watched and discussed plays in contemporary Chinese theatre of recent years – and someone might even argue, that in present time comedy has become the most serious theatrical expression on the Chinese stage. Entangled with the commercialization of theatre, new cultural structures, and the changing of urban audiences, the question is: How is this phenomenon to be understood? As a sudden boom influenced by narrative conventions of Western cinema? As a special expression of a millennial tradition of entertainment – and critique? It has to be said: comedies as an own genre didn't really exist within the Chinese theatre tradition. On the other hand:  elements of comedy have always been an important piece of the big xiqu tragedies.
While Chinese audiences are familiar with actors and plays, academic research does not appear to be interested in contemporary comedies, not to mention possible readers and audiences outside China, which have hardly heard of them. This was the reason for Anna Stecher and her colleague Xu Jian in Beijing to plan a book project focusing on contemporary Chinese comedies. It presents some of the most popular recent plays, written by Nick Yu, Wen Fangyi, Huang Weiruo, Lin Weiran, Guo Shixing, and Li Jing. It also aims to propose different approaches towards Chinese theatre – every play in translation is introduced by an expert from the fields of Chinese studies or Theatre studies. In addition, it intends to contextualize the recent phenomenon of comedies within different fields, such as the social reality in contemporary China and the history of comedy in China and to discuss questions like: Which topics are contemporary Chinese comedians interested in? How can this phenomenon be understood in the context of the 20th and 21st centuries in China? How can these comedies be understood in Europe? Last but not least, it aims at exploring comedy as a text for intercultural communication. When watching theatrical comedy performances on stage or on tape you think: what the heck is so funny about them? Questions like these are discussion topics of the book – and some more will be addressed in the "Contemporary Theater Art" Seminar Series.
More information about the speakers and the event can be found here.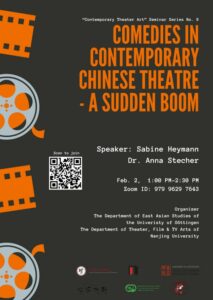 Poster: Zhang Tong