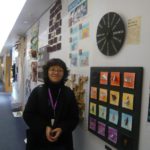 Lecture Series: Environmental pollution in China.
New media and public participation: The case of air pollution
Wednesday, April 24, 2013
18:00 – 19:30, Seminar Room 0.609, KWZ
Heinrich-Düker-Weg 14
Prof. Li Ji
School of Journalism and Communication, Wuhan University
The air pollution problem in China has been taken as the most serious environmental challenge facing the Chinese new government in 2013. The severity of the problem grew as public awareness of air pollution has been aroused by media reports. Interconnections between traditional media and new media in China formed new strength to push the Chinese government to act legitimately for solving the problem. From Blue Sky Project to PM 2.5 reports, the lecture reviews how Chinese media respond to air pollution problems in China in recent years, and how new media becomes a new strength to promote public participation in air pollution problems in China.
Dr. JI Li has been researching in the field of international/intercultural communication for 10 years, with more than 20 journal articles, book chapters and books published. She has also undertaken more than 10 academic projects, including one major project on environmental communication funded by of National Social Science Foundation of China.
Dr. JI Li has been visiting scholar of the Open University, University of Sunderland, Chinese Culture University, Taiwan, University of Goettingen in last 10 years. In 2008, she was selected as a member delegate of United States Institute on Journalism and Media funded by U.S. Department of State's Bureau of Educational and Cultural Affairs. She has also won China-Canadian Scholarship Exchange Program (CCSEP) last year.
She is now focusing on environmental communication research and conducted many comparative researches in the field. As a founding member of the International Environmental Communication Association, she has already translated several important works on environmental communication into Chinese.