"Contemporary Theater Art" Seminar Series No. 20: The Force of Mortality and Urban Villages Futurism of Butterfly Island 蝴蝶岛死亡力与城中村未来主义
16. Nov 2023 @ 13:00

-

15:00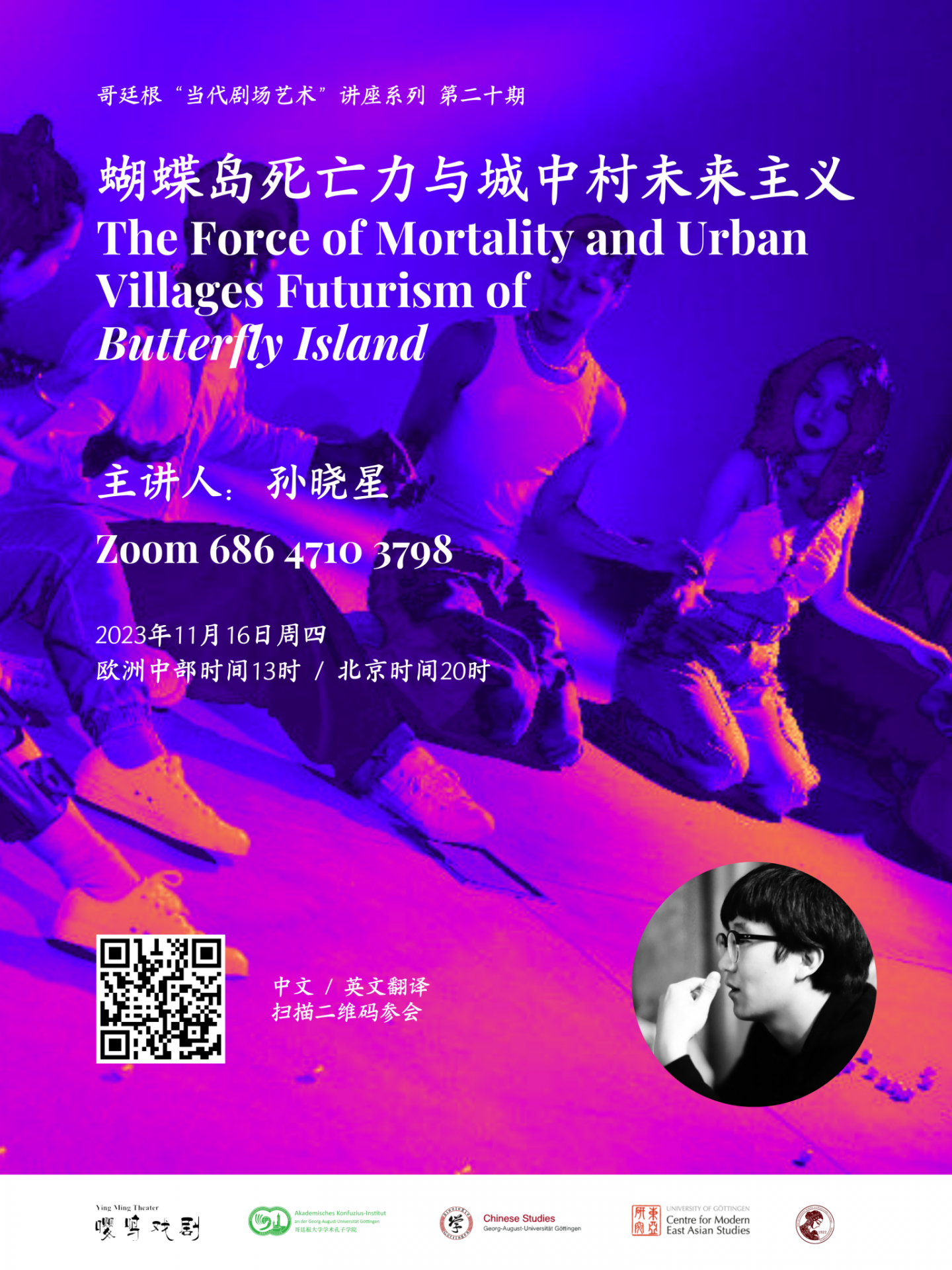 Speaker: Sun Xiaoxing
Venue: Zoom 686 4710 3798
Time: Nov. 16th, 2023. 13: 00 CET / 20: 00 Beijing Time
Language: Chinese with English translation
Abstract:
The dramaturgy Sun Xiaoxing will base his analysis of the tragic nature and multiple futures presented in "Butterfly Island" on his article "The Force of Mortality and Urban Villages Futurism of The Butterfly Island". He will dissect the metaphor of the ephemerality of the butterfly's brief life and youth, as well as the coexisting splendor and despair of the young lives on the island, and their circumstance of being both detached from and connected to the world. Moreover, by analyzing the significance implied in the "relocation" from the premiere in Hong Kong to the performance in urban villages in Shenzhen, he will explore the shift from a Sinofuturism tinged with Techno-Orientalism or Techno-Nationalism to a pluralistic Urban Villages Futurism.
戏剧构作者孙晓星将以他的文章《蝴蝶岛死亡力与城中村未来主义》为基础,解析《蝴蝶岛》所呈现的悲剧性和对未来的多重想象,蝴蝶短暂的一生与青春易逝的隐喻,以及岛上年轻生命绚烂与绝望并存的状态,和这种与世界既脱节又联系的处境。此外,通过分析由香港首演至深圳城中村"迁移"所蕴含的意义,探讨从一个带有技术东方主义或技术民族主义色彩的中华未来主义,向复数未来的城中村未来主义的转变。
Short Bio:
Sun Xiaoxing, with a Bachelor's and Master's degree from the Central Academy of Drama and a Ph.D. candidate at Shanghai Theatre Academy, is currently an Associate Professor in the Department of Drama, Film and Television at Tianjin Conservatory of Music. As a playwright, director, and artist, he has developed a series of works under the concept of "Cyber Theatre", and was invited to Festival/Tokyo, Kyoto Experiment, OzAsia Festival in Adelaide, New Art Fest in Lisbon, CPH Stage, Low Fat Art Fes in Bangkok, Hong Kong Arts Festival, Shanghai Biennale, Wuzhen Theatre Festival, Beijing Fringe Festival, Aranya Theatre Festival etc. As a dramaturgy, he has collaborated with New Youth Group, Ergao Dance Production Group etc. As a curator, he curated Sphinx Metaverse Theatre Festival "4399. Paradise: To the Dying Web 2.0 Era", and Contemporary Theatre Biennale 2018 Performance Unit "Sceno Place" Public Space Performance Series "Glitch and Error" etc.
孙晓星,中央戏剧学院学士、硕士,上海戏剧学院博士研究生,现为天津音乐学院戏剧影视系副教授。作为编剧、导演和艺术家,他以"赛博剧场"的概念开发了一系列作品,曾受邀参加东京国际剧场艺术节、京都国际舞台艺术祭、阿德莱德澳亚艺术节、里斯本新艺术节、曼谷低脂艺术节、香港艺术节、上海双年展、乌镇戏剧节、北京国际青年戏剧节、阿那亚戏剧节等;作为戏剧构作,他曾与新青年剧团、二高表演等合作;作为策展人,他曾策划斯芬克斯元宇宙戏剧节"4399.乐园——致即将逝去的Web2.0时代"、2018当代戏剧双年展/深圳福田展演单元"情场"公共空间表演系列《乱码过失》等。
Organizers:
Ying Ming Theater
Akademisches Konfuzius-Institut Göttingen
Ostasiatisches Seminar
CeMEAS
Verein chinesischer Studenten und Wissenschaftler in Göttingen