"Contemporary Theatre Arts" Seminar No. 18: Theatre as Wild Grass
17. May 2023 @ 14:00

-

16:00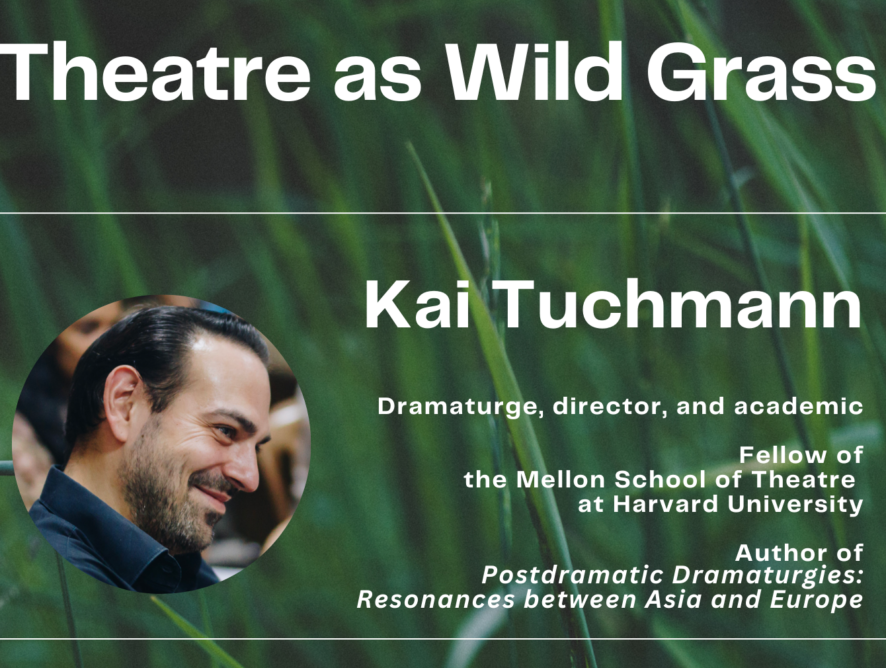 Speaker: Kai Tuchmann
Time: May 17, 2023, Wednesday, CET 14:00 PM, Beijing time 20:00 PM
Language: English
Zoom: https://uni-goettingen.zoom.us/j/64821966382
Meeting ID: 648 2196 6382
"The past life has died. I exult over its death because from this I know that it once existed. From the clay of life abandoned on the ground grow no lofty trees, only wild grass. Wild grass strikes no empty roots, has no beautiful flowers and leaves, yet it imbibes dew, water, and the blood and flesh of the dead, although all try to rob it of life." –Lu Xun Wild Grass
The Department of East Asian Studies at the University of Göttingen is delighted to extend an invitation to Mr. Kai Tuchmann, a distinguished dramaturge, director, author, and fellow of the Mellon School of Theatre at Harvard University. Mr. Tuchmann will be delivering a talk on May 17th. This event is jointly organized with the Department of Theater, Film, and TV Arts at Nanjing University.
This talk circles around Kai Tuchmann's most recent publication "Postdramatic Dramaturgies-Resonances between Asia and Europe". This volume introduces the reader to the aesthetics of leading practitioners of post-dramatic theatre from China and the German-speaking world: Zhao Chuan, Wen Hui, Boris Nikitin, and Hans-Werner Kroesinger. The dramaturgies of these theatre makers utilize the assembly of theatre in a way that is not primarily concerned with aesthetic matters, but instead, they focus on connections to the neglected and forgotten. In his talk, Kai will situate this dramaturgical approach by evoking Lu Xun's metaphor of Wild Grass.
Kai Tuchmann graduated in directing from Hochschule für Schauspielkunst Ernst Busch in Berlin. He works as a dramaturge, director, and academic. As a visiting professor at the Central Academy of Drama in Beijing, he helped develop the curriculum for the BA Dramaturgy program there. In his internationally shown documentary theatre works, Kai has explored the afterlife of the Cultural Revolution in contemporary China, the impact of urbanization on migrant workers in Europe and Asia, and the role of the body in the face of digital technologies. His stagings and dramaturgies were invited, among others, to Seoul Marginal Theatre Festival, Zürcher Theaterspektakel, Festival d'Automne à Paris, and documenta-institute.
Kai's open-access publication is downloadable here:
https://www.transcript-verlag.de/978-3-8376-5997-9/postdramatic-dramaturgies/?c=311000028