The Wandering Earth and China's Construction of an Alternative Cosmopolitanism
29. Jun 2023 @ 18:15

-

19:45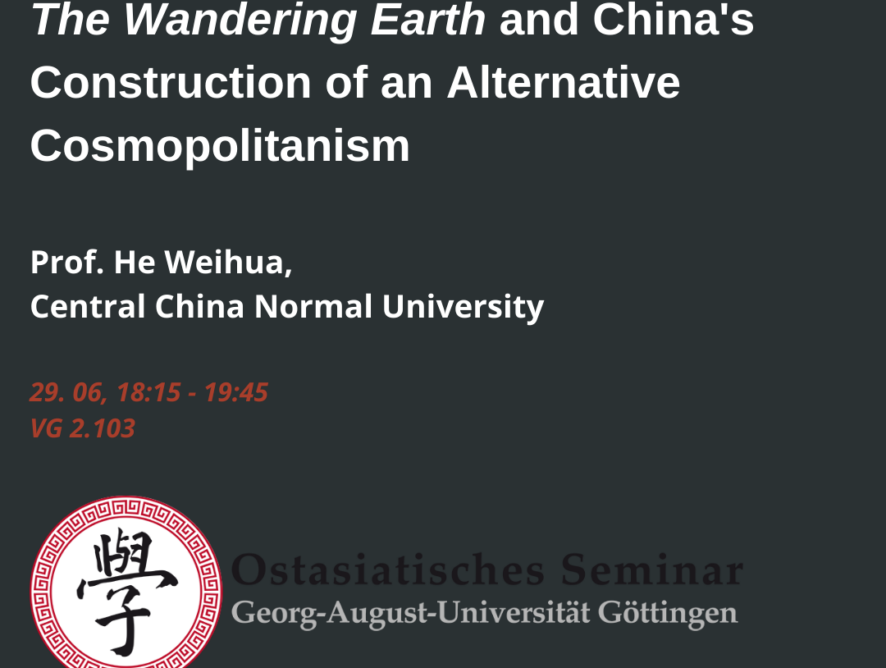 29. June (Thursday), 18:15 – 19:45
VG 2.103
Abstract:
As an epoch-making event in the history of the Chinese sci-fi film industry, The Wandering Earth boasts the extraordinary acting skills of cinema superstars and fabulous special effects. Instead of providing a description of the technical issues surrounding the film's production, this paper looks at the film as a cultural expression and dramatization of China's reconceptualization of the notion of cosmopolitanism. After scrutinizing tianxia, which is generally taken to refer to classical Chinese cosmopolitanism, this paper goes on to describe its experiential dimension, its techno-socio-economic foundation, and its cosmopolitan solidarity as shown in the film. Finally, after analyzing the ethical dimension of the cosmopolitan community, which is embodied in the idea of "home" in the film, the paper concludes by proposing a cosmopolitanism of ethicality.
Speaker:
Weihua He is currently Professor of English and Comparative Literature at Central China Normal University. He is also the Deputy Editor-in-Chief of Foreign Language and Literature Research and the Secretary General of the International Ethnic Literature Commission of (China) Association for Comparative Studies of Languages and Cultures. His research interests include comparative literature, literary theory, and the modern transformation of China. He has published extensively in journals such as European Review, Journal of Modern Literature, Comparative Literature Studies, Neohelicon and Interdisciplinary Studies of Literature.
Disclaimer:
The lecture was canceled last week due to extreme weather conditions. However, we are pleased to inform you that the lecture will be carried out this week.